The competition for candidates is fiercer than ever – especially in the IT and creative industry! Luckily there is a candidate pool out there that is about to become completely available in your area… GRADUATES! Now I know that you may ideally be looking for someone a little more experienced but we have found some of the most talented graduates in the UK, with a broad tech stack and placement years with some of the top technical companies in the Country!
Check out a few of our First Class, Masters and PHD Grads who are looking for work right now: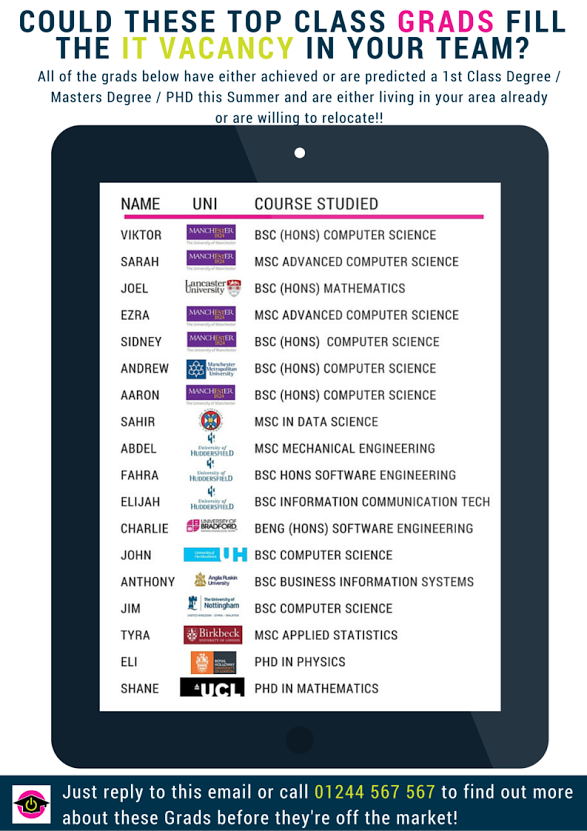 We have graduates, starting from salaries as little as £18k (and all the way up to £35k with awesome placement years!) looking at either relocating back to the area or in fact staying on having enjoyed their time at the local Universities so much.
Is there scope within your team or wider business to explore the possibility of on boarding fresh, local and technically hungry talent?
We are representing candidates in the following disciplines;
Web & Software Development – C# / ASP.Net / MVC /  PHP / Java
Front-End Development – jQuery / Javascript / Angular / CSS / HTML5
Mobile – iOS / Swift / Android / Java
Data Science – Machine Learning / NLP / Python / R / Statistical
BI – SSRS / SSIS / SSAS / DataWarehousing / Kimball
Digital Infrastructure – DevOPS / Linux / Docker / Cloud / AWS
InfoSec – Cyber Security / SISSP / SSCP / CISA / CISIM
IT Support –  Networking / Hardware / Server / Helpdesk
Design & Creative – Adobe Suite / UX / UI
Ecommerce & Digital Marketing
ALL candidates will come armed with either extensive portfolios or a demonstrable track record of success through academia, coupled with the all important eagerness and hunger to learn, develop and achieve.
ALL placements are no placement no fee and come with a 4 week 100% rebate, followed by a further 8 week free replacement to give you complete piece of mind.
Please call 01244 567 567 or email [email protected] for further information, feel free to take a look at Searchability and the circles we mix in across all social media networks. Genuinely, there is no-one better placed to help you fill your technical vacancy and if a graduate isn't what you are looking then we of course also cover everything up to Director level.
With no placement no fee, what have you got to lose?!